You can accurately weigh and measure your parcel by following the steps below.
Use a kitchen scale or any other reliable scale to measure the weight of your parcel and its contents
We accept weight in Kilograms (kg) or Pounds (lb).
Now measure the dimensions (height, width and length) in cm of your parcel. Be sure to measure the maximum size of each measurement. A ruler or DIY measuring tape will suffice.
Measure along the edges of the box to get the most accurate measurements.
You can measure your parcel in either centimetres (cm) or inches (in).
Note: Couriers charge you on the size of the parcel or the volumetric weight of the parcel. They will use whichever measurement is the greatest. Use our volumetric calculator to find out your parcel's volumetric weight.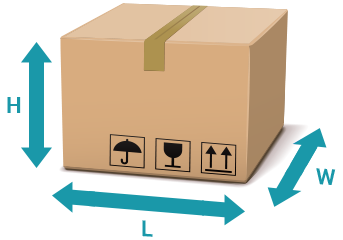 Further points to consider
If you have an oddly shaped parcel, measure it as though it was in the smallest box that it could fit inside of.
If you are shipping a pallet include the pallet in both the weight and the measurements.
If you are sending a suitcase or bag, include any straps or handles in your measurements.
Note: As a record of your measurements, we advise taking a video with your phone of your parcel on the scale, showing the weight of the parcel, and using a ruler or measuring tape to show dimensions. This will be useful should a carrier dispute your measurements.